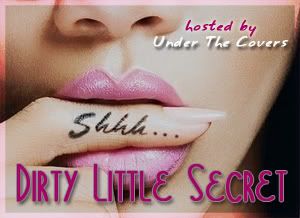 I thought I would try a new meme this week. Since I've been reading some HOT books, this was appropriate!
Dirty Little Secret
is a weekly meme hosted by us at
Under the Covers
. Every Thursday we get to know other bloggers and our readers more intimately by asking them a question hoping to reveal their dirty little secrets. We hope that you will all join us!
To participate in the meme all you need to do is:
1. Be a follower of Under the Covers.
2. Create a post in your blog taking the meme image (code above) and copy instructions.
3. Answer the question we propose! This can be done in any way you like, post a video, write a post etc.
4. Then add your link below.
Non-bloggers: We want to hear from you as well!!! Let us know your answer in the comments!
We hope you join us and let us know your Dirty Little Secrets!
This week's question:
We've heard a rumor that Ryan Seacrest is using Fifty Shades of Grey as a manual in the bedroom.
What book would you give a guy to study up on?
Lately, I have found myself reading some hot romance! They haven't been quite erotica, which isn't my thing, but they are right up there with the steam factor. This past week's guide for a guy would be either:
Love Me by Bella Andre
From my book review on goodreads:
Sizzling Hot! Love Me by Bella Andre is a perfect example of a hot read. Janica and Luke have known each other since their childhood, and they are direct opposites. Janica is a happy go lucky, free-spirit who is not shy to say what is on her mind or to 'experiment' with her life. Luke is a serious trauma surgeon who is all about saving lives. One devastating night in the ER spins Luke out of control and into Janica's arms.
Throughout the story, the two cannot have enough of each other. Luke's inner 'bad boy' erupts in one non-stop erotic night. At the same time, Janica 'softens' up and realizes she loves Luke – always has. It doesn't stop there. Taking a leave of absence from work, Luke spends a few weeks at a beach house and Janica shows up to comfort him, and to prove to him that he is capable of love. Their discovery of a deep connection is played throughout the book. Luke and Janica discover who they are while showing us their love in some extremely sensual settings.
Although this story is a sequel to Take Me series, I didn't find it hard to understand, as I haven't read the first. If you want a quick read with highly sensual tension and some fantastic steamy scenes, buy this now! It's worth it.
The novella is highly romantic, yet sensual, that any romance freak would love. Including a man looking for some tips. :)
Happy reading,
Melinda