My littlest doing his Spiderman pose in front of the ruins.
Mi Guatemala
As I mentioned in a previous post, my sister came to visit after many years. We took a mini-vacation to Antigua, Guatemala. I promised pictures, and I want to share the beauty of this country. Although it is a third-world country, there are many beautiful places to visit. My favorites are the volcanoes that seem to follow you wherever you go.
View from apartment in Guatemala City

. Volcan de Fuego.
Volcanes Acatenango and Fuego. Fuego is still active at a low level with steam visible daily.
Streets of Antigua, Guatemala
Volcan de Fuego
Volcan de Agua
Beautiful art everywhere

Santa Catalina Arch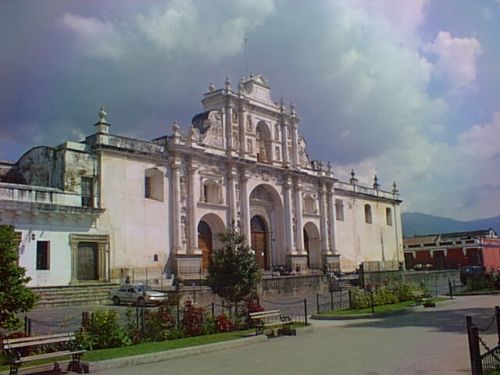 Cathedral at Central Park, Antigua, Guatemala

As you can see, Guatemala is full of beauty, nature and culture. Why not take a leap and visit an unknown place. Just let me know if you decide to stop by! I'll be waiting for you with a cup of coffee in one hand and a list of exciting adventures in another.
Thanks for stopping by,
Melinda